About Annie Bissett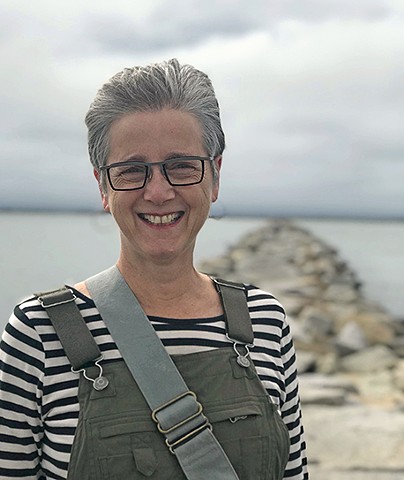 Woodblock Dreams Tarot has been many years in the making, in both content and form. In the 1970s a high school friend introduced me to tarot, and a few years later I began studying formally with an intuitive healer named Claudia LeMarquand. Although I never felt called to read cards for other people, I have used the tarot as a tool of self-inquiry for decades, and as an artist I've always wanted to create my own deck.
My first attempt at making a deck was in the 1990s when I was working in the then-new field of digital illustration. I quickly abandoned the project, though, partly because I lacked the fortitude required for such a huge task, but also because I realized that I had nothing unique to add to the body of understanding already established in the field.
In 2005 I began making Japanese-method watercolor woodblock prints (mokuhanga), the medium I used to make this deck. Mokuhanga printmaking utilizes waterborne pigments which are applied to carved wooden blocks with soft brushes. Although the colors can be quite vibrant, you'll also see a certain transparency and delicacy in the art. You can see more of my woodblock prints at my fine art web site, anniebissett.com.
In early 2019 my desire to make a tarot deck resurfaced, perhaps because I had moved to Rhode Island after many years of calling western Massachusetts home and I felt adrift and in need of an anchor. Whatever the reason, the project flowed this time, and I'm so excited that it's actually finished. I hope the deck will bring you joy, insight, and clarity for your own life.